Humboldt Park Property Values have surged due to the popular surrounding development spill over. (Bucktown, Wicker Park, Logan Square, and Ukrainian Village)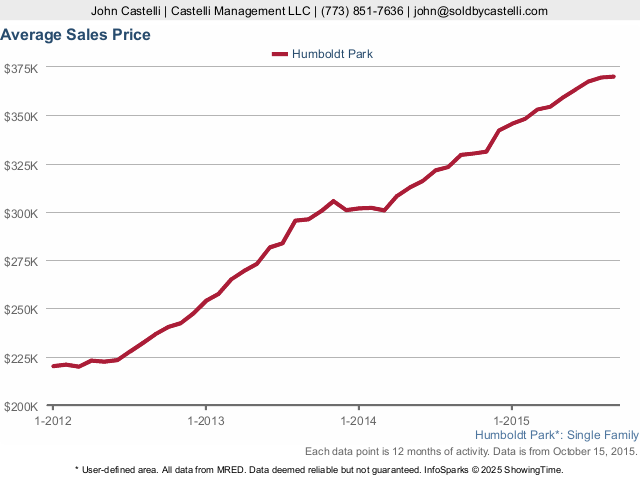 Redfin named Humboldt Park the nation's 10th hottest neighborhood in January 2014 and is even more popular now, since the addition of the 2.7 miles 606 Trail which passes through the Humboldt Park neighborhood. There has been a tremendous amount of new business opening along Armitage Ave., North Ave, Division Ave., California Ave. and Chicago Ave. Developers have transformed the area almost over night and have increased the Humboldt Park Property Values.
Humboldt Park real estate investors have also seen a great return on investment in the past three years. The average Humboldt Park Property Value in 2012 was about $224,000. Had you purchased an average property in the Humboldt Park area in 2012 putting down 5% of the $224,000 purchase price, you would have required only $11,250 or only $7,840 had you qualified for only 3.5% down payment as the initial investment to Buy.
As of October 2015 the average Humboldt Park Property Value is at $370,000 for the same average property you just bought 3 years earlier. Minus the $11,250 you put down to buy at $224,000 your current loan balance is now just blow $213,000. Taking the current Humboldt Park Property Value of $370,000 minus the current loan debt of $213,000 you currently would have an equity gain of $157,000 in 3 years off of a $11,250 investment. That is a 1,295.6% return on investment!
To learn more about current Humboldt Park Property Values contact us Today! 
An error has occurred:
[0] Remote request resulted in a [403 Forbidden] response.
More Info
This app is FREE to download.
Are you curious about what's for sale in your community? Would you like to peek inside that house for sale down the street? Our app is loaded with helpful features customized for your phone or tablet.
Get the most accurate and up-to-date real estate search information right at your fingertips.
John Castelli, Realtor
Keller Williams Realty Partners
(773) 851-7636 Mobile 
JohnCastelli@kw.com
www.JohnCastelli.com
---
Tags: Humboldt Park, Humboldt Park apartments, Humboldt Park Chicago, Humboldt Park investing, Humboldt Park investors, Humboldt Park Luxury Apartments, Humboldt Park market, Humboldt Park Property Values, Humboldt Park real estate, Humboldt Park rentals, Property Values